Serato Scratch Live Update 1. 9
Scratch Live is vinyl emulation software that operates exclusively with Rane hardware. Mix and scratch digital music on your computer with Serato Control Vinyl or Control CDs. Download Archive - Serato Scratch Live - DJ Software.
Aug 23, 2013  What's up guys, welcome to djTLMtv, i'm DJ TLM and in this special Serato Scratch Live series i'll show you everything you need to know about my favorite digital vinyl system, Serato Scratch Live.
Finally out of the private closed beta, two brand new versions of Serato's DJing software are launching today: Serato DJ Pro 2.0 and Serato DJ Lite 1.0. The new releases include an updated refresh of the user interface, an offline practice mode, and 64-bit support.
Latest Version:

Requirements:

Windows 7 / Windows 8 / Windows 10

Author / Product:

Serato / Serato DJ Pro (32-bit)

Old Versions:

Filename:

Serato DJ 1.9.7.zip

MD5 Checksum:

a84b52bc605326b5affb1493c123d608
The1.6.3 version of Serato DJ includes the new driver needed to update the Rane Sixty-Two firmware to the latest 2.21 build. If the Update Firmware panel is not greyed out, and the button is yellow, a firmware update is necessary. Click the Update Firmware button to update the device's firmware. Close the device control panel.
Serato DJ Pro is professional DJ software for professional DJs! Delivers all the features and performance to meet the demands of DJs at the top of their game and sets the new standard for controller DJs. Load and customize your choice of high quality FX powered by iZotope including: Delay, Echo, Ping Pong Delay, Reverb, Phaser, Flanger, Distortion, HPF, LPF and a Combo HPF/LPF. Adjust and customize a range of parameters for each effect to shape your sound. Lock your tracks together for seamless grooves.
Smart Sync with Beatgrids gives you even more time to get creative. 4 deck mixing has never been better with the ability to create your own special blends of tracks, instrumentals and vocals without the pressure of keeping everything in time too. Less time making it work, more time at the party. Interoperable with Scratch Live, ITCH, DJ Intro and iTunes Music Libraries. Serato DJ is award winning, digital DJing software used by professionals across the globe.
Features and Highlights
Virtual decks
All the important track information you need is displayed on famous virtual decks. Get live BPM and track time information as well as visual representation of upcoming cue points and playhead position while scratching.
Colored waveforms
Visualize your tracks with unique EQ colored waveforms. Red for bass, blue for treble and green for mid-range. Never miss an incoming vocal or bass drop. Keep your tracks in time with a simple beat matching display next to waveforms.
Full DVS support
Use club standard setups with Serato Control Vinyl or CDs for the perfect emulation of real feel DJing. For turntablists there is the unique sticker lock feature to keep your routines super tight.
Recording + SP6
Record your full sets in customizable high quality formats, ready to share with your followers online. Trigger DJ stings, loops, acapellas, drops and whole tracks from the SP-6 sample player. Keep up to 24 samples loaded across 4 banks and sync them with your playing tracks.
Midi support
Add ready-mapped official accessories to your setup. Alternatively connect any MIDI device, or remap your primary device however you like to personalise your performances and increase your productivity.
Powerful FX
A huge array of customizable DJ FX powered by industry leaders iZotope. From the DJ necessities of Filters, Echoes, and Delays to complex and creative noise synths, dubbed out tape echoes and retro 8-bit audio bending FX.
Note: 14-day trial period. Serato DJ is now Serato DJ Pro, a free upgrade for existing DJ users. All supported hardware works too.
Also Available: Download Serato DJ Pro for Mac

22 July, 2009
What's new in 1.9.1
View the Scratch Live 1.9.1 release video here.
SP-6 Sample Player
- The SP-6 functionality has been greatly expanded. In the top right corner of the SP-6 there is a new button - the Sample Player Display Menu. Clicking on this will popup a menu with the list of available controls:
Mode - Choose Trigger / One-Shot / Hold / Repeat modes.
Pitch - Pitch Slider / Bend / Nudge / Keylock controls.
Play from - Choose which cue point / loop to use for the sample.
Overview - Displays the overview.
Level - Individual Level and Gain controls.
Level meter - Displays the level meter for the sample.
Serato Scratch Live Update 1. 99
This enables you to setup the SP-6 with the appropriate controls that suit your workflow.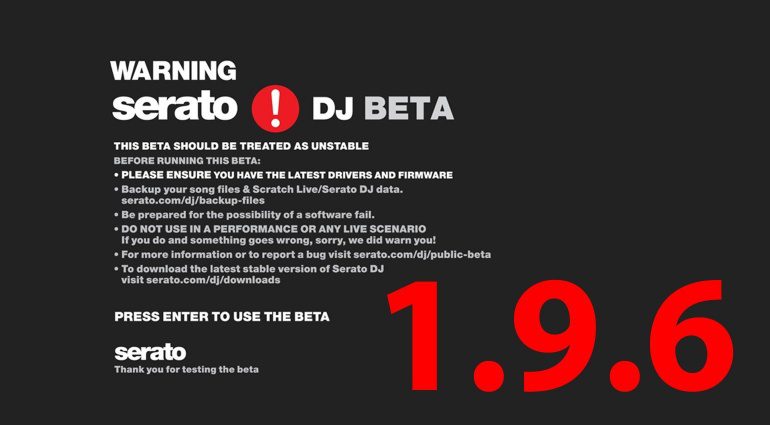 - You can also now instant double to and from the sample player by dragging and dropping from a deck onto a sample slot and vice versa.
- You can now load tracks to the sample player with the keyboard shortcuts: ctrl + alt + z to n.
- The SP-6 master gain and output channel settings are now saved between sessions.
- The SP-6 master gain now goes down to silence.
- The Sample Player now uses the autogain target as specified on the setup screen.
Hot Cues
- There is a new option in the playback tab on the setup screen called enable hot cues. When this setting is enabled, triggering a cue point when a cue point is not set now sets the cue point.
For example: If you have a track that does not have a cue point in slot 1, pressing 1 on the keyboard will set a cue point in slot 1. Once cue point 1 is set, pressing 1 will trigger that cue point. You can still set cue points normally using ctrl + 1 to 0.
Vinyl Scroll
- Vinyl scroll can now be enabled and disabled using an option on the vinyl control tab on the setup screen.
iTunes
- Tracks that are moved around on the hard drive by iTunes should now not get lost when using read iTunes library.
- Made the iTunes library default to 'expanded view' by default. The iTunes library icon has also been changed for better visibility of whether it's open or closed.
- Fixed problem where changing tags in iTunes for a track that is in a Scratch Live crate would result in a duplicate entry being added to the library, and the original entry in the crate becoming a pink 'missing file'.
TTM 57SL
- New TTM57 Firmware v3.20. This firmware update eliminates the 'dip' in the x-fader.
- You can now toggle the SP-6 Sample Player with the left joystick when in [i]group[/i] mode.
- Fixed bug where you could not unassign hardware controls on the TTM 57SL
- Fixed problem where TTM 57SL firmware updates might not start until you restart Scratch Live.
Dec 25, 2019  Is there currently a 64-bit version of MixMeister BPM Analyzer for Mac or will there be in the future? With macOS Catalina 32-bit applications are no longer supported and BPM Analyzer is the only application I use that isn't 64-bit by now. Mixmeister bpm analyzer mac 64 bit. MixMeister BPM Analyzer is a program you can use to determine the exact BPM (beats per minute) of any song. BPM Analyzer allows you to: Calculate extremely accurate BPM counts for any song; Drag and drop music files from Windows Explorer; Display and sort files by Title, Artist, or BPM; Update ID3 tags in your music files with exact BPM information; Easily print BPM reports for your entire music collection.
SL 3
- There is now an option for recording bit-depth with the SL 3 on the hardware tab of the setup screen.
- Fixed LiveFeed from not working with the SL 3 on windows.
- Fixed the setup screen scopes from being too zoomed in when using CD Players with the SL 3.
- The SP-6 now doesn't disable when set to thru. It instead switches from using the AUX output (if selected) to the MIX output.
- Fixed input reverse on windows with the SL 3 where both the input *and* the output were being reversed.
Video-SL
- Fixed Rane MP 4 not working on with Video-SL on Windows.
- Fixed backward-compatibility issue with Video-SL 1.0.2.
- If an mp4 file has an overview stored in the actual file Scratch Live will now read it in preference to an overview stored in the XML data.
- Audio should now play in AVI files with MP3 audio in them on mac. If quicktime can play the file, Scratch Live should now also be able to play the file.
- Fixed a bug where the 'locked' state of loops wasn't being saved for video files.
- Fixed the second VSL effect select knob. It will work with VSL 1.1 but in slightly different ways depending on the platform:
Mac: Turning the knob will start the effect select process then waiting on an effect will select it.
Win: Turning the knob will start the effect select process and hitting the effect select button will select the new effect. This will change in the next version of VSL.
MIDI
- Added a keypress 'c' to toogle between midi control change types (absolute and relative) when MIDI assigning.
- Fixed bug where unassigning midi controls and restarting Scratch Live resulted in the controls being reassigned.
- Fixed bug where the midi assigned record button would stop recording when releasing the MIDI button.
- Fixed MIDI assignments not saving when reversing MIDI controls (by pressing tab key in MIDI assign mode).
- Fix to crash/hang when using midi controls to adjust the manual loop selector
HID / MIDI Controllers
- The unused effect buttons on the Pioneer CDJ-400, Denon HC-4500 and HD-2500 controllers are now MIDI assignable.
- The Denon DN-HD2500 and DN-HC4500 Pitch/Key buttons will now toggle the pitch slider range when held for more than 1 sec. An ordinary button press will toggle key lock.
- Fixed a problem with the Denon DN-HC4500 Display not refreshing properly when going from CD mode into MIDI control mode.
- Fixed Pioneer MEP-7000 bug where the right deck pitch control doesn't work correctly when the device is hot plugged.
- For the MEP-7000 and CDJ-400, the reloop/exit button will now light up when setting a loop, and when reloop/exit is pressed while setting the loop it will cancel the loop.
- The Scratch Live GUI now runs smoother when in MIDI assign mode.
History
- Improved the load time for a large History database. Large databases were holding up the library load and giving the impression that tracks were not loading into the library.
- Fixed a bug preventing the History panel column order changes from being saved if no tracks were added or removed in the history tracklist.
- The History panel 'name' column can now be moved properly in the column order. Its column position is also now saved on exit.
- Fixed a problem where clicking in the History panel horizontal scroll bar wouldn't scroll the column headings as well.
- Improved the handling of corrupt history databases.
- Fixed crash that could occur when viewing History on windows if your system time settings are set to 24 time hour format with no leading 0 (common in Central Europe).
- Fix to a history crash that could occur on start up - especially common on Vista machines.
Recording
- Fixed bug where noise could appear in sound recordings if your computer CPU usage is high.
- Fixed bug where clicks could occur in the recording after changing the SL3 recording bit-depth.
Library
- ALAC encoded audio inside mpeg-4 containers will now import into your library.
- Scroll bars in the library now have up/down and left/right buttons on them.
- You can now search in the browse panel by typing while the browse panel has focus.
- The mouse cursor now changes to a resize cursor when the mouse is over the column resize hotspot.
- Fixed bug where after rescanning ID3 tags, LiveFeed tracks would be marked as missing (pink).
- Fixed cursor flicker when dragging a song library track around.
- Improved library load times.
- Improved crate load times.
- Improved performance when opening and closing the Browse panel.
- Fixed bug where some Genre tags would revert to 'other'.
- Fixed bug where when making multiple edits with the colour chooser and then not accepting the changes in the pop up window then selecting another track, the selection would revert to the first of the previous selection.
- Fixed bug where if you recalculate a bpm for a track which already has an auto-bpm value, it would ignore the 'bpm range' menu setting for that track.
- Fixed bug where it was not possible to drop a crate under the collapsed iTunes playlist.
- Fixed bug where in the all crate, if the first column was sized to its smallest, restarting Scratch Live would change the size of this column.
- Fixed bug where multiple tag edits would not work when using the 'ctrl + left/right/up/down' or tab shortcuts.
Other Changes
- Fine pitch adjustment can now be enabled when the shift key is pressed during a mouse drag. Previously you would have to press shift before you start to drag the mouse.
- Fixed bug where pressing the 'thru' button on the SP-6 stopped the sampler from taking keyboard shortcuts.
- Fixed the deck track repeat and the SP-6 repeat (loop) buttons from being linked to each other when playing the same tracks.
- Made some optimizations to quicktime file decoding.
- Temp recording files will now not be deleted until the next time you start recording. This means that if you quit Scratch Live before saving your recording, you can still retrieve the recording from the Recording temp folder in the Scratch Live folder.
- The track key is now displayed next to the song title in the virtual deck area.
- Improved the alignment between instant-doubled tracks to reduce the occurrence of the 'flanging' sound between tracks in internal mode.
- Fixed crash when control-clicking audio cache and maximum screen update sliders on the setup screen.
- Added a label to the 'auto loop select' knob on the midi assign window.
- Changed autoloop behaviour so that if you autoloop when the playhead is already outside of an already active loop, and new autoloop is made instead of changing the length of the existing loop.
- Fixed bug where when using Windows with German keyboard settings the ctrl + shift + '/' control zoomed in the waveforms instead of toggling input reverse.
- Fixed crash on startup if one the tracks loaded to the SP-6 has an associated video file.
- Fixed bug where with autofill overviews selected, loading an unanalyzed track to deck then unloading the track before completion, and then reloading to the deck and letting it complete analysis, the BPM would not be saved correctly to the actual song file. This meant that the BPM would disappear after restarting Scratch Live and loading the track to a deck again.
- Fixed bug when instant doubling from a relative to internal mode deck it would start playing even if the relative mode deck was stopped. Now If the source deck is not playing, the target deck will remain paused.
- Fixed a problem where the instant doubles keyboard shortcut didn't work without the 'instant doubles on song load' option selected. The instant double command and the 'instant doubles on song load' option are independent.
- Fixed inconsistency in behaviour of the Instant Double feature when using the TTM 57SL controls to trigger it.
- Fixed the 'set auto-bpm' option for track analysis, it was previously broken so that it was always on regardless of the setting.
- Fixed the recording level meters from not working when recording Line 1 or 2 with the SL 1.
- Fixed a problem with M4A files where corruption could occur by deleting tags.
- Fixed bug where when a locked whitelabel track was loaded to the deck the warning did not appear in the deck info display.
- Fixed bug where unlocking whitelabel tracks only worked by pressing the 'enter' key - not by clicking on the unlock button.
- Fixed bug where previously when the tap tempo feature was used on a track with no bpm the loop buttons would stay grayed out until the loop was triggered by a keyboard shortcut.
- Fixed bug where switching turntable control with 'input reverse' and 'drop to abs' or 'drop to cue' mode turned on in relative mode would cause a needle drop as the vinyl control switched decks.
- Fixed bug where the selected track info wasn't showing on the deck info displays when using vinyl scroll.
- Fixed dropouts from occurring when clearing loops.
- Fixed bug where the controls on the TTM 57SL group menu could be unassigned.
- Key is now displayed in the offline player.
- Fixed bug where track gain was not being saved correctly in certain MP3s.
- Fixed the right level meter while recording.
- Removed the minute markers from the overviews of LiveFeed tracks.
- Fix to problem where undoing a track load (ctrl + z) back to a live feed track resulted in a crazy back spin.
- Cue points are now removed from a LiveFeed track when it's ejected
- Cue points are removed when they fall off of the LiveFeed track